My name is Amy, I am 27 and today is the day I got my overall grade for Go Higher and I got 70%! I could not be any more ecstatic with myself if I tried. However, I could not possibly take all the for credit for my final grade, the lecturers and the other students played a massive part in my studies and achievements and I do not think I could have got such a great grade without the support from them all! But enough about me boasting about how intelligent I think I am (or now know) It is the journey that I and so many others took to get to this point that really matters and in the words of Drake "We started from the bottom, now we here"
I finished Secondary School with 10 GCSEs and teachers had set high expectations for my A-levels, I wanted to do Law and become a barrister. I had set high expectations for my myself telling everyone that I will attend a law school after my A-Levels, but it definitely did not work out that way, in fact everything went in the opposite direction. After 3 months of 6th Form I realised that I didn't enjoy Law as much as I though I would and before Christmas I dropped out of my A-levels and in the following September I went back to college and studied Beauty Therapy. I know what you're thinking, how did I go from a barrister to a beauty therapist? Well I still don't know the answer to that, my new dream was to join the Police, I was still interested in Law just a different aspect of it and I needed something to fall back on just in case. Once I had finished my NVQ 3, I pursued my dream of becoming a police woman. Spoiler alert, it never happened! I applied numerous times and went for panel interviews, but I just never made the cut so eventually I gave up. I blamed it on fate and believed that there must have been a reason, there had to be something special waiting for me.
Then it all started around 3 years ago when I found out that the University of Liverpool actually taught Egyptology as a degree and I knew that I had to make my dream a reality. What where the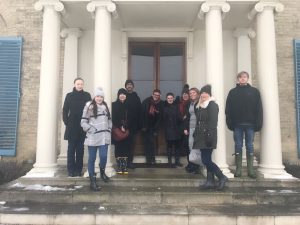 chances that a University so close to home actually taught the subject that I desperately wanted to do? There are only two other Universities that teach Egyptology in England, Oxford and UCL in London. It was fate, it had to be! So how did my dreams go from barrister to beauty therapist to police officer to EGYPTOLOGIST? It was something that I always had a fascination with, it was more of a research hobby than anything but when I found out that it was something I could actually be paid to do I knew why nothing else had worked out for me in the past.
My GCSEs were out of date and I had no A-levels, so I would not have been considered for direct entry to start the degree, but then I found the holy grail: 'For adult learners with few or no formal qualifications, the University offers a one year, part-time, fast-track foundation course.' I had just discovered the Go Higher course.I had just missed the deadline for the course that year, but the Administrator Anne promised me that once the applications are open for the following year she would contact me with all the information I needed to apply and she did not disappoint as, in November 2016, she emailed me a copy of the application and before I knew it I was invited for an interview.
Dr James Bainbridge was the first lecturer I met, he conducted my interview. I was so nervous because I really didn't want to fail this interview, I have never wanted anything more! I can't describe how nice he was during my interview, he even laughed at my awful joke about how I would now be put into the overs category on X Factor with Steve Brookstein and all the other mature contestants, and I just remember hoping that he would be my tutor if I got a place on the course. I was offered a place on the course, I think it was the X Factor joke that secured it for me, it was obvious proof that I had potential!
I arrived in September honestly very scared and a little confused, what had I got myself into? It had been 8 years since I last stepped into a classroom and I didn't enjoy it then so would I enjoy it now? Honestly, I loved it, being in a classroom because you want to be gives you a completely different experience when it comes to education. And guess who my tutor was? JAMES! I knew this was going to be great. We were thrown into the deep end straight away, group presentations. HELP ME! I was lucky enough to be put into a group that all had clear ideas and we could actually all agree on most things. The support from James and Julia our Learning support mentor were amazing as well and really helped to calm nerves and talk about any worries that you or your group had.
I honestly looked forward to Wednesday every week (not only because I had a day off work) My favourite stage of the course had to be stage 3. I had chosen Literature, History and Philosophy for my final stage and I loved every single one of them. The passion James has for literature is the most inspiring thing, he made every lecture enjoyable and seeing his excitement when someone would discuss an idea that he hadn't considered was the best thing ever. (Can you tell who my favourite lecturer was yet?) Dr Claire Jones who is the Academic Director of the course taught History and Philosophy, she is just as inspiring as James. Her presence was so calming, and she kept you engaged throughout the entire lecture always starting class debates and keeping everyone involved. Her classes in stage 3 were my favourite classes on the entire course, Votes for Women for History and Consciousness for Philosophy and I still get into debates with strangers about these subjects now.
And the other students! Where do I even start? The passion and motivation from them all was inspirational. We all supported each other, and we would all go out of our way to help someone who was struggling. The work load is equivalent to your 2nd year at University so it could get tough sometimes and there were plenty of tears and tantrum but the support from the other students was second to none. I have definitely made some lifelong friends, how can you not? Nobody understands more than they do what you are going through, and nobody can motivate you more. I cannot wait to see that the future holds for us all and I cannot wait to hear about the new students who have made the first step to the future. Go Higher has been the best experience ever, I would do it all over again for the rest of my life if I could!